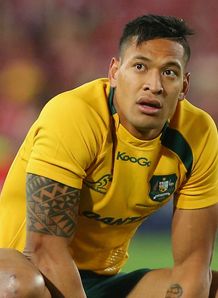 Related links
Teams
The Waratahs aren't alone in looking to seal the services of Israel Folau, with the NRL looking to lure him back to the code where he began his career.
Folau switched to rugby union this year after a season of Australian rules football, but it was in the National Rugby League where he first came to prominence.
The NRL are keen to lure Folau back to league and are prepared to change their rules on salary caps in order for Folau to be signed as a marquee player. The NRL has previously resisted the idea of marquee signings, which would allow a club to spend more than $1 million per season on a player, as they feel it favours richer clubs.
However, chief operating officer of the NRL, Jim Doyle, says that whatever needs to be done will be done in order to keep the best players in rugby league.
"We will consider everything," Doyle told The Sunday Telegraph. "The salary cap has to be modernised. We all agree on that. It is designed to keep a level playing field and stop clubs from going broke. But we have to make sure something is in place to ensure we keep our best players."