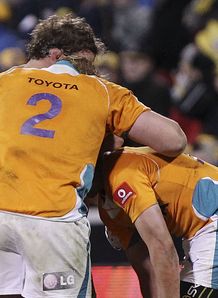 Related links
Teams
The Cheetahs' Super Rugby season may have ended with a disappointing play-off defeat to the Brumbies, but captain Adriaan Strauss remains proud of his team.
The Bloemfontein-based outfit went down 15-13 to the Brumbies in Canberra on Sunday after fly-half Riaan Smit missed a conversion from the touchline after 80 minutes were up which would have taken the game into extra time.
Coach Naka Drotske bemoaned his side's high penalty count, pointing to their ill-discipline as a stumbling block.
"If you're in the quarter-finals, it's quite important to keep away from bad discipline ... half-time it was 7-2, I think, the penalty count. That put us under a lot of pressure," said Drotske.
"But also credit to the Brumbies. They attacked our breakdown quite well, and we could never get momentum and quick ball."
Strauss admits it was tough to see the match end in the fashion it did, but that they had plenty of positives to point to.
"Obviously we're really disappointed to lose tonight," said the hooker.
"But I'm still proud of the guys.
"We had a much better season this year and that's something we can definitely build on for the future.
"I was very confident in Riaan (to kick the conversion)."
"I thought he had a great kick and I thought it was over but that was unfortunate for us tonight."