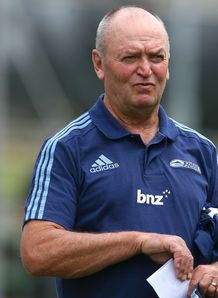 Related links
Teams
Blues assistant coach Sir Graham Henry has apologised for derogatory comments made about a Television Match Official after his side's match against the Crusaders.
Henry said that the TMO must have been "blind" not to have awarded Frank Halai a try during the encounter, a comment that as found to have contravened Sections 8.3 (a) and (e) of the SANZAR Code of Conduct.
The former All Black mentor on Sunday pleaded guilty to a charge charge of contravening the Code of Conduct and was cautioned by judiciary officer Jannie Lubbe SC and ordered to make a public apology which he has now done.
"On Sunday, I accepted that I had breached the SANZAR Code of Conduct with comments I made to the media last week following the Blues' game against the Crusaders. This statement is an apology to the match officials who may have taken offence to my comments and to SANZAR," said Henry.
"I accept that my comments to the media last week went beyond that which SANZAR deem acceptable under the Code of Conduct. Accordingly, I want to apologise to SANZAR and to the match officials involved for my comments, and for any offence they may have felt, as this was certainly not my intention. My intention was to try to respond to media questions in relation to matters I thought were important, in an honest but humorous style. I clearly failed to achieve that and in some respects, I accept my comments went too far in criticising the match officials.
"I recognise there is a SANZAR Code of Conduct to be followed and I will take more care to adhere to these standards in the future when I am answering media questions about matters which both the media, and the fans are interested to hear from us about."