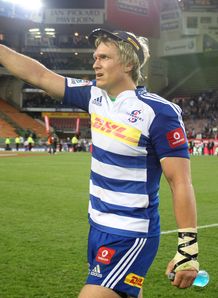 Related links
Teams
An emotional Allister Coetzee admitted he was proud to see his side get back on the winning track on Saturday.
Playing in their first match at Newlands after a disappointing tour that saw them lose three out of four matches and fined for matchday misconduct after an assistant referee was verbally abused, the men from Cape Town notched up a 20-15 win over the Reds.
Coetzee and captain Jean de Villiers spoke in the build-up to the clash of the need to get a win under their belt and return to the performances they expected of the team. As such it comes as no surprise that having seen the Stormers put in a titanic effort to repel the men from Queensland, both coach and captain where beaming with pride.
"To face a quality side like the Reds after coming back from an unsuccessful tour says a lot about this team," said Coetzee.
"No one gave us a chance and the victory was no mean feat. I'm so proud of this team."
De Villiers, who scored the only try of the match, pointed to a decrease in errors as a key turning point for the team.
"There was a lot of pressure on us in this match but we played with freedom and executed well," he said.
"Our attitude has always been good this season, but our error rate was down."