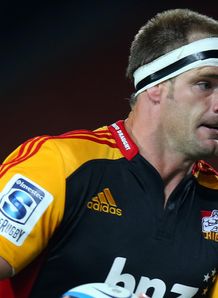 Related links
Teams
Chiefs skipper Craig Clarke is set to return to action against the Sharks in Hamilton on Saturday after recovering from concussion.
The 29-year-old lock's work ethic and leadership have been missed by his team-mates, particularly in the recent losses to the Reds and Waratahs.
He has been sidelined for the Chiefs' last five matches after sustaining his injury in the 36-34 loss to the Stormers in Cape Town in Round four.
And despite the champions' recent slump, Clarke believes it is time for clear thinking rather than wholesale changes.
"It's pretty obvious that we're starting pretty poorly and that's a combination of [a lack of] intensity and accuracy - there have been too many mistakes which have let teams get a roll on early which is fairly tough to combat once you're down by a few," he told the New Zealand Herald.
"There's been a little bit of a disconnect between the forwards and the backs - when do the backs get the ball and when do the forwards take over, that sort of thing."
He said although the forwards had provided a decent platform - the set pieces were functioning okay - the directness of 2012 was missing.
"The line-out drive is not that good, and general go-forward around close [to the ruck is] not quite good enough," he added.
Clarke revealed that the Chiefs' coaches Dave Rennie, Wayne Smith and Tom Coventry had expressed their unhappiness at half-time against the Waratahs when the Chiefs were trailing 0-15 at the break.
"At half-time in the Waratahs game there was a fair bit of heat there from the coaches, which was warranted," he added.
"The guys know if they don't perform they're going to get a serve. But this week the coaches have been really good in being realistic about the position we're in and the amount of work we're going to have to do to get out of it.
"We see that as a really good challenge. We have a really positive mindset to get into our work and get things going again."