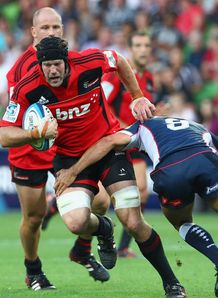 Related links
Teams
Crusaders lock Tom Donnelly is bulking up after returning from a stint with second-division club Mitsubishi in Japan.
Donnelly joined the Japanese club on loan, after the Crusaders lost their semi-final to the Chiefs last July, but returned to the Christchurch-based franchise having shed a few kilos.
"Physically I am a bit run down but mentally, having got back among the guys, I feel real fresh," Donnelly told Fairfax Media.
"Over the next two or three weeks we will just work on the conditioning. Get into the gym, get a bit stronger and put a few kilos on. If someone gets injured I will be ready to play but at this point I will just freshen up."
Donnelly's rehabilitation means that Canterbury second-rower Dominic Bird is set to be named on the bench - as cover for All Blacks duo Sam Whitelock and Luke Romano - for the Crusaders opener against the Blues in Auckland on Friday.
The former Highlander revealed that although he did not lose too much muscle, due to weight training, he tried to maintain his protein intake by eating red meat but it wasn't always easy.
"I tried but it is really tough over there to get a good cut of steak or get a lot of red meat," explained Donnelly.
"There is a lot of pork, chicken and carbs like rice and noodles. It was part and parcel of it all."