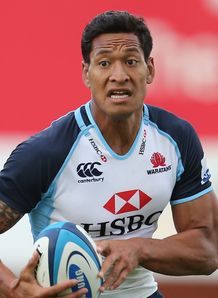 Related links
Teams
Waratahs full-back Israel Folau is set to face his biggest test to date when the Sydneysiders host the Crusaders in a warm-up match in Sydney on Thursday.
The former rugby league and Australian rules football player has been in great form in the Waratahs' opening pre-season games against the Rebels and Blues.
But Waratahs assistant coach Alan Gaffney believes Folau's progress - since his move - will be greatly tested by the Crusaders' playmaking duo of Dan Carter and Israel Dagg.
"There's no doubt they'll put a lot of high ball up to [Folau] early," Gaffney told the Sydney Morning Herald.
"Carter's very adept at that and so are a number of their players. They'll test Izzy out.
"But he's proven very, very well that he's excellent under a high ball in rugby league and they do get put under pressure there, so I think he'll handle that."
Gaffney feels Carter's prowess at targeting full-backs is an added threat.
"It'll be a situation of trying to work him around the pitch," he added.
"Carter's a master at working number 15s and taking advantage of a positional play, but I think Izzy has a great sniff of the game.
"He really understands footy and has a good sense of what's happening."
Blues coach John Kirwan sees similarities between Folau and fellow code-hopper, and former All Black, Sonny Bill Williams.
"You can't give him any space and you've got to tackle him pretty hard," Kirwan said.
"He is like Sonny Bill Williams. He will need time to adjust to some of the finer points, but if they get the ball into his hands, he's hard to stop."