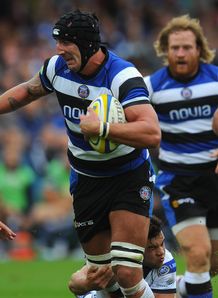 Related links
Teams
Highly promising young lock Will Spencer has agreed to stay with Bath Rugby until at least the end of the 2015/16 season.
Standing at 2m, Spencer has been a member of Bath Rugby Academy since August 2010 and made four appearances for Bath last season.
"I'm very happy to have extended my contract here," said Spencer.
"I've been given some great opportunities here to grow as a player, and now I want to start challenging for a regular place in the team to continue that.
"Bath is a really good place for young English players at the moment, with a real focus on us all developing as a squad, so I'm looking forward to what the next season brings."
"Spence has really kicked on over the last season, gaining valuable game time and winning Championship play-off matches," said first team coach Toby Booth.
"He's grown physically, as a player, and has impressed us with his attitude and performances. He's still got a lot of potential and he's in the right environment to fulfil that.
"The Rec faithful have a lot to look forward to when he runs out on his home turf again."