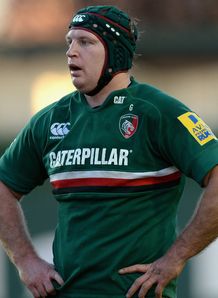 Related links
Teams
Thomas Waldrom says he is ready to "put his best foot forward" as he looks to make an early impression at new club Exeter Chiefs.
The England international is just days into his new life in Devon having completed a move from Aviva Premiership rivals Leicester Tigers.
But already the experienced 31-year-old is getting stuck into the rigours of pre-season as he looks to make his mark here in the Westcountry.
Waldrom, who as well as the Tigers has previously featured for Super Rugby sides Crusaders and Hurricanes, knows the importance of laying a solid foundation ahead of the new season - and says the work put in now by himself and his new team-mates will be key to Exeter's seasonal plans.
Waldrom also talked up what he will bring to the table along how opposition sides view Exeter as a side.
"You have to turn up in pre-season and put your best foot forward," said Waldrom.
"Whoever does that will get the opportunities. It's about working hard and myself, being new to the team, will have to do a lot more homework to get up to speed and make sure I know everything to give myself the best shot.
"I'll bring a bit of an older head, a bit of experience.
"I've been around and played some rugby now with the Tigers and at international level so I've experienced a lot of rugby all around the world.
"Hopefully I can adapt to the way they play and just add as much experience as possible and leadership if required. The main thing is to go out there and just enjoy it, and make sure the young guys enjoy it as well.
"Everyone knows when they come against the Chiefs it's a tough, physical game and you've got to work to beat the Chiefs.
"All we can do is work hard and try to achieve the goals we set out early on in the year."