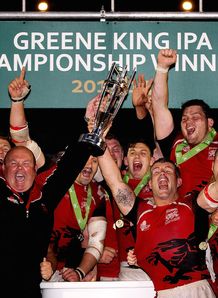 Related links
Also see
London Welsh head coach Justin Burnell knows the club will have to sign more than a dozen players to be competitive in the Premiership.
The Exiles clinched promotion at the first time of asking following their relegation last year by beating Bristol 48-28 over the two-leg final, with the damage ultimately coming in their home fixture at the Kassam Stadium.
Key players for Welsh this season have included Gordon Ross, 35, and Tom May, 36, and while their forward pack has been excellent along with their defence the head coach is aware that reinforcements are required.
"We have got 36 players on board, but we are going to have to sign another 12 to 15 players," said Burnell.
"But I won't just sign people for the sake of it. I would rather move forward and work with the people we have got than do that.
"We are not about just signing superstars, as you have seen this year. We will have to scour the southern hemisphere, but it will be difficult.
"People who now come into our environment have to fit in to what we are about. It is about the London Welsh environment.
"We have done a certain amount of planning. We are not exactly in a position like Bristol, and it is going to be hard work again.
"I was hoping to have some time off after a tough season, but it's straight back to London for me and straight back into work on Monday. Everyone else will be dispersing on Friday morning, but not for me."
Burnell sympathised with Bristol, who had put major plans in place for next season with a series of signings including Wales number eight Ryan Jones and the Samoan flanker from the Hurricanes, Jack Lam.
"They (Bristol) are a good side, and I feel a bit for Andy Robinson," added Burnell.
"I don't think they took us for granted, but I think it showed today that you can have one philosophy, but if you don't kick the points it's disappointing.
"But they are a fantastic club, and no doubt they will be pushing for promotion next season, too. However, they will have another big-spending side (Worcester) to compete against."