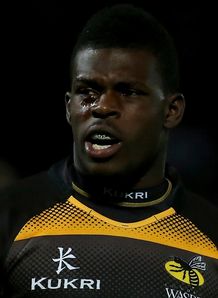 Related links
Teams
London Wasps wing Christian Wade won't rush his return from injury, even if it means missing England's tour to New Zealand.
The diminutive flyer is desperate to make the plane next month, but knows he must make real progress in the next week to ten days in recovering from ligament damage sustained against London Irish in December.
The anticipated six-month layoff at the time has proved correct.
"We're just taking it week by week. Everything is determined by how the foot feels. If that means I get a couple of games this season then great, but if it means I'm waiting for the start of pre-season..." Wade told Bucks Free Press.
"You just have to go with how the foot feels. You don't want to rush injuries like this.
"I've just started running again.
"I had the screw out about two months ago and then I started to walk again, strengthening the calves and the ligaments in my feet.
"I did some running in the pool and I'm now progressing to the G trainer, so I'm running on a sort of treadmill in a big air bubble.
"It takes a bit of the weight off but you're getting the feel of the ground under your feet again.
"Next week I should start to run outside again so it's looking good.
"This has been my longest injury. The one before this was four months out and I found that quite hard, but I think that experience helped me this time.
"It's just a mindset. You know what to expect and what you're going to be doing. You're ready for what's coming.
"Having been there before, I knew what I was in store for and that's helped me."
However, Wasps boss Dai Young sounded a note of caution regarding the winger's return to play.
"He's nowhere near playing at the minute and we've only got a month left. He's working hard to get back and you can never rule it out, but my understanding is it's well exceeding a month," said Young.
"There's no problems, he's just running out of time with the season coming to a close and unless things kick on in the next week or two, it's very unlikely he'll have any part in any game this season, very unlikely.
"Things would have to change drastically in the next week to ten days."