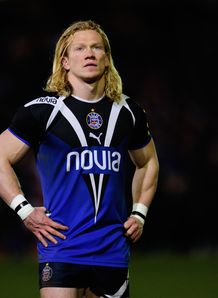 Former Bath winger Tom Biggs has been linked with a move to Worcester Warriors next season, despite switching codes.
Biggs was set to join Super League side Hull FC, his hometown club, after playing for Leeds and Bath in the Premiership.
The 29-year-old however is reportedly considering the possibility of staying in Union.
Worcester have undergone a notable recruitment drive for next season, with talented players including Sam Smith and Ryan Mills heading to Sixways.
Dean Ryan however dismissed the speculation when questioned this week, refusing to comment on reports.
"Speculation doesn't serve anybody," Ryan told the BBC.
"I've said all season that players announcements come through the club.
"I don't comment on what The Rugby Paper puts in. We have a recruitment strategy here.
"We announce signings when we've got them and that will be the same going forward."
"We spoke with Tom and the reality was it was going to be July before he came and we have decided to pursue another option," Hull FC chairman Adam Pearson told the Hull Daily Mail.
"Tom won't be coming now and we've used the opportunity to look elsewhere. Hopefully, we should have something to announce within the next two weeks."