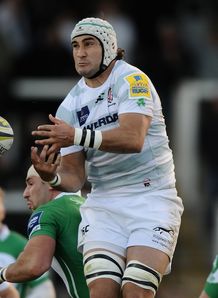 Related links
Teams
London Irish number eight Blair Cowan has stated that the club are not considering relegation ahead of facing Worcester.
Cowan missed Irish's 20-18 win over Worcester earlier in the season at Sixways so will face his old club for the first time this weekend after making the switch to London Irish during the off-season.
"We've never been looking at relegation. That's never been a word at this club," Cowan told getReading.
"Everything we've looked at is what we want to become and working towards that.
"There's been no pressure from the bottom. It's been more disappointment with how we've been performing.
"We're just looking for a win to play our game, not play pressure rugby where we have to win.
"We're still going to stay true to ourselves and do what we do and I think that's going to be key.
The Exiles are the closest side to the struggling Warriors, who currently occupy the bottom spot in the league.
Irish have a handy ten-point cushion over Worcester however, who visit the Madejski Stadium this weekend.
"It's turned into a big game (Worcester) because we're the bottom two," added Cowan.
"At some point we need to make that turn again into a winning environment and now is as good a time as any.
"It's a home game against a team perceived as not being in form. But they're a good side and it's going to be a challenge and we're definitely up for it. This is the big one for us.
"Then we've got a couple of Amlin Cup games where we can really start to build a foundation of winning.
"Winning is a culture and over these next five weeks we can build a solid culture."