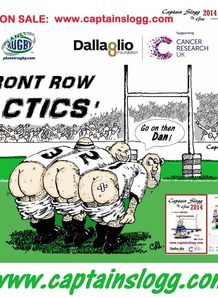 Related links
Teams
We're giving Planet Rugby readers the chance to get a Christmas present, save some money, support cancer research AND win a prize!
We've team up with Captain Slogg and The Dallaglio Foundation to help raise funds and awareness for Cancer Research.
With 2014 almost here, we reckon a new rugby calendar would make a great Christmas present.
Published on high-quality paper, the Captain Slogg 2014 Calendar is a stunning selection of remastered cartoon comic images from 'Captain Slogg by Gra' as published in Rugby World since 2006.
It really is good fun, and if you use the promotional code: @Planet_Rugby, you'll SAVE 33% when you click here to order at www.captainslogg.com.
You'll also stand the chance of WINNING a Limited Edition Calendar signed by Lawrence Dallaglio.
Even at the full price of only £14.99, you really have no excuse for not ordering one!