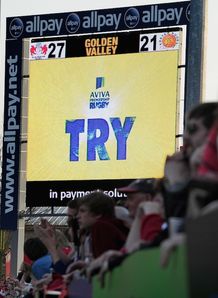 Premiership Rugby have confirmed that all Aviva Premiership matches in the 2013-14 season will have a Television Match Official (TMO).
Across the world Television Match Officials are traditionally only appointed for games covered live on TV. But after a substantial financial investment by the Premiership Rugby Board, referees in all 135 Aviva Premiership Rugby matches will now be able to consult the TMO, for the first time in the League's history.
"This move greatly increases the integrity and consistency in Aviva Premiership Rugby," said Phil Winstanley the Rugby Director at Premiership Rugby.
"Aviva Premiership Rugby has more close matches (an average winning margin of 11.1 points) than any other League in the world and we pride ourselves on the competitiveness of our tournament.
"This new TMO policy helps maintain the level playing field for all clubs alongside other measures like our Salary Cap.
"Last season only the 69 live TV matches were covered by the TMO, and we want to strive for world-class standards. Having a TMO in all 135 matches is an important step forward.
"Our analysis showed that officials could have been helped in many of the non-live matches last season, if the additional cameras had been in place.
"We don't want the decision of whether a TMO is used to be dependent on whether a match is being covered live."
Last season the powers of the TMO were increased and this led to a drop in citings. In 2011-12 there were 38 citings in Aviva Premiership Rugby, a number which dropped to 30 in 2012-13.
"Ideally we want every offence to be dealt with during the match in which it takes place, so we want to move to a system where there are no citings," added Winstanley.
"In the case of foul play we want it to be dealt with when it occurs and not in a hearing some days later when the penalty will not benefit the opposing team."