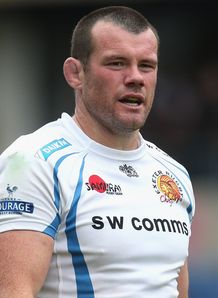 Related links
Teams
Exeter boss Rob Baxter concedes that the decision to replace Tom Hayes as skipper was by no means an easy one.
Hayes was the man who led the Chiefs to Championship glory in 2010 and then in three seasons in the Premiership, but it was announced last week that he would be replaced by Australian Dean Mumm for the upcoming campaign.
"It was a very tough decision. There are a few reasons for it, obviously Tom has done a fantastic job in the time he has been captain, but we're still a little bit unsure of his injury situation," Baxter explained to Exeter's official website.
"He's just had a relatively major back operation at the end of last season and even though his rehab has gone well - and he's pretty much back in training full on - there are still some issues of when we're going to get him back to 100 per cent and that's had an effect on our decision because we're getting close to the start of the season now and it's important we get our leadership situation sorted.
"Since arriving Dean has shown some fantastic qualities and he's an experienced captain, so I think now the time is right for making the change."
Baxter added that the leadership structure at Sandy Park is one that sees a number of players involved in the decision making process and that this would not change.
"We have a pretty big leadership group on a week by week basis, all of whom offer a lot of detailed input into our plans for that week," he said.
"Often we have a meeting early in the week with the leadership group and it sometimes can be seven or eight players strong. It's not just the captain we involve, guys like James Scaysbrook, Haydn Thomas and Gareth Steenson, they are all in there when we talk about how we want to play the game.
"It is a relatively big group and I think we'll probably include a younger player in our leader group because we do have a large number of very good players and I think involving them in our leadership discussions will be very important."