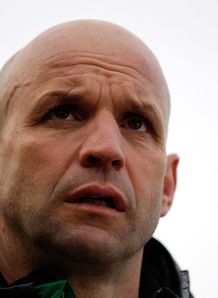 Related links
Teams
Northampton Saints director of rugby Jim Mallinder took plenty into consideration before re-naming Dylan Hartley as captain.
Hartley's future in the role was uncertain following his straight red card in the Aviva Premiership Final last season for abusing match referee Wayne Barnes.
The controversial England hooker consequently missed the British and Irish Lions tour, but was named captain for the new season earlier this week.
Mallinder has now publicly backed his skipper as a "top-class international hooker" and "an outstanding leader", supporting the decision.
"We didn't jump to it [the decision]. We took a lot of time to decide what was the right thing," said Mallinder.
"I spoke to a lot of people, the coaches and a lot of the senior players and Dylan for a long time.
"He has captained the side for the last four seasons and he is an outstanding leader. He is not too old but is very experienced and we decided he was the right man to takes us forward.
"In big games in front of 80,000 people there is a lot of stress on everybody concerned and what happened shouldn't have happened but we all make mistakes. We learn and move on and make sure our mistakes don't happen again.
"If you look at what Dylan lost, it is massive. He was very conscious of his contribution and how it affected the side on that day - he is very aware of that.
"He is very aware of missing out on the Lions tour, which would have been a once-in-a-lifetime trip with a good chance for him to start in one or more of those Tests.
"He has gone through it - it was a hard lesson to learn but I think he will learn that lesson.
"You don't want any of your players overstepping the mark but history tells us that some of the very best players occasionally do go over the edge a little bit.
"You don't want that - you want them to play on the edge but not over it. Sometimes they push it too far.
"He is a top-class international hooker and he is still relatively young in terms of that position and I see him getting better than he is now.
"He has had to cope with a lot in the past. People have always tried to wind him up and make him react. He has had that in the past and he has reacted really well.
"I can think of some really big European games where we have come up against teams who have clearly targeted him and he has coped. He has turned the other cheek and carried on and he needs a bit more of that. He needs to understand where he is and just get on with his job."