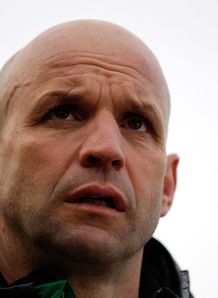 Related links
Teams
Northampton Saints chairman Leon Barwell has stated that none of the club's coaching team will depart before next season.
Recent results and crashing out of the Heineken Cup have put director of rugby Jim Mallinder under pressure, but Barwell insists there will be no coaching departures from Franklin's Gardens, although more additions have not been ruled out.
Clermont coach Alex King has already signed on to join the Saints campaign for next season.
"There won't be any changes. There will certainly be no more goings anyway," said Barwell to BBC Radio Northampton.
"We recognised early in the season that the coaching structure wasn't perfect, that we needed to freshen things up - not to replace what we've got but to add to what we've got and build on our strengths.
"It's very clear we have put a strategy in place. Alex King was at the game on Saturday, so he knows the size of the task in front of him.
"He'll be a brilliant addition to the coaching setup. We're not in this for the short-term, we've got a very bright future.
"We've got to focus on driving forward and being ambitious and hopefully achieving some of our ambitions."