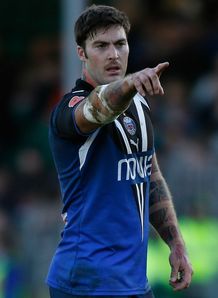 Related links
Teams
Bath centre Matt Banahan is relieved to have secured his future having signed a new contract at The Recreation Ground.
The converted winger is predicting successful times ahead for his side, highlighting the growing culture within the squad.
"Contract times are always very stressful but now it's done and dusted it's nice to know I've got another one," said Banahan to the Western Daily Press.
"It's that sort of concrete thing that you know you are going to be somewhere for a couple more years.
"I've just turned 26, so I'm still young. Hopefully I've still got another ten years to play.
"The club is growing - you can see the culture growing within it. That's what you want to be part of rather than going somewhere else.
"It's not like when we were moving around Lambridge and Farleigh - we are now situated and building a buzz. If they start building a new Rec as well, it will be nice to always be here and be part of that.
"There are always temptations but you've got to realise what's best.
"I need to look at what's best for my family. They are happy, and a happy home is a happy man. That's what you've got to keep and hopefully that stability will show on the pitch. Everything I need and want is here."