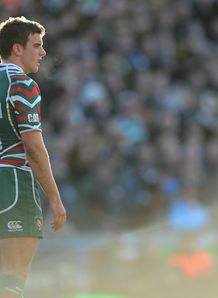 Related links
Teams
Leicester head coach Richard Cockerill had words of support for fly-half George Ford after his poor showing against Northampton.
Ford missed five shots at goal in a brutal East Midlands derby where his lack of game-time was exposed, but Cockerill feels the experience will benefit him in the long run.
"George is a very good player. Today, he had an off day with the boot, but he did some very good things with ball in hand."
"He will learn from it. He has had some pretty good days as well - in a semi-final and a final last season - and that is part and parcel of young people developing.
"I will put my arm around him and encourage him, and we will carry on. People want him to play all the time or go somewhere else to play, but we have to develop George and look after him.
"He will play enough rugby here along with Toby Flood. If you want to play for England, play here in front of Toby and then you will be in the England team."
"We all know young players are going to make mistakes, and George made mistakes today.
"He is a young lad developing, and you are going to have these days with young players. He will play next week, and he will battle through and work hard, which he always does.
"Ford could potentially be a world-class player, but there is a curve. He is 19.
"If he sits here and develops for two more years, he will still be only 21 and will still have 10, 12 or 15 years of rugby left in him, so what's the rush?
"The best person in this whole George Ford scenario is George Ford. He is a great kid, and he understands exactly where he is at. It will be peaks and troughs."