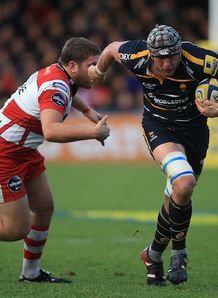 Related links
Teams
Lock star James Percival has committed his future to Worcester Warriors after signing a new long-term contract at the Sixways club it was announced on Thursday.
Man-mountain Percival has enjoyed a hugely impressive season in the Aviva Premiership as a key component of the Worcester pack and has now made a total of 33 club appearances for Warriors.
Hugely popular with both supporters and team-mates, Percival started his career in the Academy at Warriors and gained international recognition during his first spell at the club, as a member of the England U21 team that won the 2004 Six Nations Grand Slam.
The 28-year-old second-row born in Wordsley - who stands 6ft 5in tall and weighs 18st 8lb - joined Northampton Saints in 2005 before joining Harlequins in the summer of 2007.
Percival, who previously studied at Worcester Sixth Form College and Worcester University, re-joined the Warriors in 2011 and has become a vital part of the starting line-up at Sixways.
The lock made 20 league appearances in his first season back at Warriors and scored his first try for the club on the opening day of this season against Bath Rugby.
"We're delighted that Percy has signed a new contract at Warriors," said Worcester coach Richard Hill.
"He is a key player for us both now and going forward over the coming years.
"He has been a fantastic acquisition and has a superb attitude. He is extremely passionate about the club, having been here before, and he is one of the senior players who will drive the ambition of the club.
"Percy joined us from Harlequins because he wanted to see Worcester climb up the league and be successful. He is determined to see that journey through.
"On the field he brings physicality, an abrasive edge and a fantastic work rate. He works incessantly and trains hard to get himself in really good shape. Every time he goes on the field he works and works, a lot of it unseen, and has a huge appetite for the game."
Meanwhile, Percival has vowed to give everything he had to bring success to 'his boyhood club' after agreeing a new long-term contract at Worcester Warriors.
"The reason I came back to Worcester was to achieve things here. We've been moving forward as a club and I want to be here when we are winning things, playing Heineken Cup rugby and moving up the league table.
"This is not a stepping stone for me - Worcester has always been my boyhood club and I wouldn't want to be anywhere else.
"We are going forward and the atmosphere in the club is the best I've known it. It's a genuinely exciting time and I'm pleased to commit and continue to be a part of that."