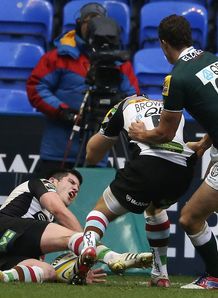 Related links
Teams
Quins boss Conor O'Shea admitted that his side were slightly lucky to secure a 31-28 win over London Irish.
The defending champions needed a last-gasp try from Tom Casson in controversial fashion to claim the victory, with the TMO ruling that the ball had come off the centre's knees before he grounded it late on, making his try legal.
O'Shea was the first to concede that the decision was far from straightforward.
"I think if you watch it in real time it doesn't look like a try, it's a great piece of covering work by Guy Armitage," he said.
"But by the letter of the law it's a try so I think it was a good decision and it's why we have the TMO system.
"We know that at the end of the season you look back and you have games like this. It's a massive four points for us to come away with because Irish played well and it's a tough place to come.
"I think we really picked up the intensity in the final five or six minutes after we went behind and that was crucial. The whole team picked up in intensity and we saw more people carrying, more people getting into the game and looking for the ball.
"Everyone forgets certain games at the end of the season - it's all about playing your best all season and fortunately this was one we got away with without playing at our best."