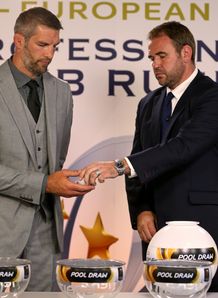 Related links
Also see
In an ironic twist following the shift of power from ERC to the new EPCR, next year's Rugby Champions Cup will be run by ERC officials.
The Daily Telegraph reports that with the Switzerland-based European Professional Club Rugby only being formed in April and with their recruitment yet to be completed, ERC staff have been asked to step in to administer the tournament.
ERC employees helped to carry out the Pool draws last month and are expected to run the tournament for the entire season.
Given the Dublin-based company was set to be dissolved following the new accord between the Premiership, Pro12 and Top 14, the news comes as a surprise.
Premier Rugby chairman Quentin Smith even went as far to say at the time of the formation of the ECPR that the ERC was "no longer fit for purpose".
The new Rugby Champions Cup, which has replaced the Heineken Cup, sees a reduction in the number of teams from 24 to 20.
ERC staff are in long-term limbo beyond this season however, with some employees set to be offered first refusal on mirror roles with the new organisation based in Neuchatel.