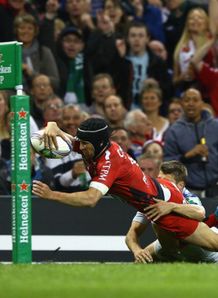 Toulon fly-half Jonny Wilkinson bowed to the unsung brilliance of centre Matt Giteau after his side beat Saracens to win the Heineken Cup on Saturday.
Wilkinson, who was playing in his penultimate game before retirement, was under an intense media spotlight at the Millennium Stadium.
However his thirteen points and the performance of number eight Steffon Armitage was backed up by Giteau's showing, with Wilkinson finding the time to praise him after the superb 23-6 win.
"Matt's individual contributions to the game were incredible, all the way through," said Wilkinson.
"He's a damn good player who can just about do everything, and he's the reason why someone like me realises my time is up.
"You look at him doing what he does, and you think that's where the future of this team is. I certainly want to see him flourish, he's been an inspiration to me, and I know he will be to this team in the future.
"Since he's been here he's done nothing but bring this team up, give them more and make us all better players. I wouldn't survive out there without guys like him, his ability to selflessly do the extra work, take on extra responsibility, make the difficult calls.
"He could say 'that's not my position, that's not my job' but he never does. There have been times during the season where I haven't made the first few kicks, and I've asked him to take the next one and he just steps up and does it.
"He never says anything about it, he just gets on with it, and that's the kind of guy he is."