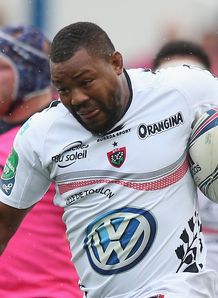 Related links
Also see
Toulon flanker Juan Smith believes that England would be making a "big mistake" if they snub Steffon Armitage for their World Cup squad next year.
Bok veteran Smith was speaking ahead of the club's Heineken Cup semi, with Armitage having played a large part in getting them to this stage.
He said the Englishman is one of the world's best and urged Stuart Lancaster to relax their policy of not selecting overseas-based players just for him.
"He's one of the most special guys I've ever played with," Smith told Press Association Sport.
"I would be surprised if England don't pick him for the World Cup next year.
"I think they must relax on that not picking overseas guys, if you look at Steffon Armitage he is one of the best openside flankers in the world at the moment.
"So not to take that guy to the World Cup, that would be a big mistake."
Smith added of Armitage's strengths: "He's a short, bulky guy, and if he's on the ball you don't get him cleaned off that ball."
"And his all-round play, he can run, he can step, he can tackle, he can steal the ball, so I think he's arguably the worst nightmare for any team that play against Toulon.
"I must say they must realise it's a professional sport and it's good money for any player to come and play in France, especially when you look at the taxes for international players.
"If you look at South Africa (coach) Heyneke Meyer, he said he will just pick the best players. That has to be the way."