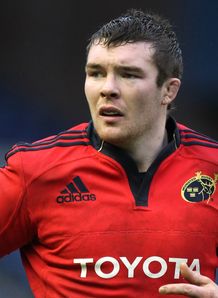 Related links
Also see
Munster will give captain Peter O'Mahony until Thursday to prove his fitness for Saturday's European Cup quarter-final against Toulouse.
The 24-year-old flanker - capped 23 times by Ireland and a member of the side that won the Six Nations title last month - is still struggling with the sore hamstring which saw him miss last weekend's Pro12 game with Leinster.
It is the same hamstring that caused O'Mahony trouble during the Six Nations.
However, Munster coach Rob Penney said that he was making progress and had got through some light training on Tuesday.
"Peter O'Mahony has a light progamme for the beginning of the week after having missed the match with Leinster," said Penney, who to some surprise announced in February he would be stepping down at the end of the season despite being offered another year.
"He trained well today (Tuesday) but didn't stay for the whole session.
"We hope he won't suffer a reaction today and that he will get better.
"Things should be a lot clearer on Thursday," added the 49-year-old New Zealander.
O'Mahony, seen as a potential captain of the national side once Munster team-mate Paul O'Connell retires, said that he was optimistic he would be able to play for the 2006 and 2008 trophy winners.
"If I can train normally on Thursday then I should play," he said.
"It (the hamstring) contracted last Friday, but I think it will sort itself out.
"They (the coaching staff) have given me as long as possible, I feel a lot better now."
While O'Mahony could still play, Penney said there is little hope for lock Donnacha Ryan, who has been out for a fortnight so far with a foot injury, of taking part.
However, hooker Damien Varley could make his first appearance since he injured a foot at the beginning of January.
"He is doing well and has a light programme planned as well... but he should be in the matchday squad," said Penney.