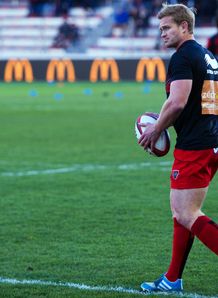 Toulon scrum-half Michael Claassens has praised three-time European champions Leinster ahead of this weekend's quarter-final.
The Irish giants will travel to the Stade Felix Mayol for the monster last-eight clash with a side packed full of players that have just won the Six Nations title with Ireland.
Toulon by comparison lost only Mathieu Bastareaud to France and Martin Castrogiovanni to Italy, with Maxime Mermoz playing a part in two matches for France.
That means that Toulon's squad has remained together for some time, building up the understanding between Bernard Laporte's world-class squad.
Claassens though has huge admiration for Leinster and doesn't believe that the atmosphere in Toulon's ground will prove to be as imposing for the Irish side compared to when other teams have visited.
"Most of the Toulon team were here. I think there were just two guys missing through the Six Nations. That definitely helps as you get to know each other and play with each other more," Claassens told the Irish Times.
"I know Leinster were missing a few guys in the Six Nations but they play together there with Ireland and they've been playing together for years.
"With the support there is here, with the people always shouting for you and cheering you on, that will definitely lift you. You would hope that sides would get intimidated by that but, to be honest, I don't think Leinster will.
"They have so many international players and so many guys who have played at the highest level for so many years all over the world, so I think for them it will just be another game on a different field."
Claassens has come across Leinster before in his playing career, receiving a 52-27 thumping in Dublin two seasons ago with Bath.
"It felt like we playing against 30 guys that day," stated Claassens.
"They are obviously one of the top teams in the Heineken Cup and have been for a number of years. They are a very organised team, they're coached very well and they've got a lot of international players.
"They've been one of the top teams in the Heineken Cup for years so it will probably be our toughest game of the season.
"They've got strength all over the park in their organisation, their coaching, the players they have, with good forwards and good backs. They're a really difficult team to play against and they're Irish as well so will be very passionate."