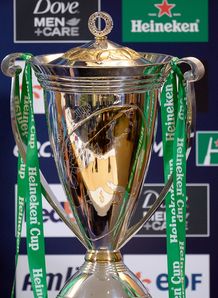 Related links
Also see
Ulster chief executive Shane Logan has every confidence a new deal will soon be struck by all on the future of European rugby.
Speaking with the Belfast Telegraph Logan said he believed the major stumbling blocks had been negotiated, and that talks are now on the home straight.
"I think we're very close and I'd be very surprised if it unravelled at all," Logan told the Belfast Telegraph.
"I have heard over the last six months many public pronouncements from English, Welsh, French and now Italian clubs and none of them have come to pass.
"So I would think that sense will prevail amongst all. There are 38 professional clubs in Europe and we're all heavily dependent on each other; I think everybody realises that now.
"I think the new formula for Europe is a good one. I think it will take the tournament forward and will also take our league forward.
"There will be seven clubs from our league qualifying and going through into Europe. All four of the Welsh clubs will be fighting for limited places, as indeed will we.
"If you look at the top of our league table, you see just how competitive things are. That makes for more exciting rugby.
"It raises the standard and improves the game as a spectacle. We don't want to play any dead rubbers, we want to play highly competitive rugby that is attractive to the fans. That's why we play the game and that's why the fans pay."
Logan also concedes that the original gripes aired by the breakaway French and English clubs over revenue distribution and qualification format were not without merit.
"There was quite a bit of validity in a lot of what they (English and French clubs) were saying so I think we now have a formula that works for everybody," added Logan.
"I think you can probably say that the top four or five in each of the leagues are pretty much of a standard. Similarly, I'm not sure there's much between the bottom four or five.
"I don't think there is any significant gap in the quality of rugby, though one of the advantages our league perhaps has is that because we're playing in four countries, we're more used to travelling, hotels, different styles of refereeing."