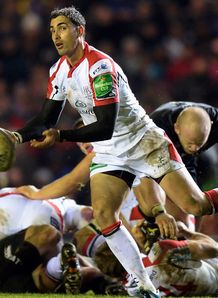 Ulster captain Johann Muller lauded the performance of match-winner Ruan Pienaar as the scrum-half shone in their 22-19 win over Leicester.
Pienaar scored all of Ulster's points on Saturday as the Ravenhill outfit secured top spot in the Pool and also finished as number one seeds.
Ulster will now host Saracens in the quarter-finals and second-row Muller was quick to point out a large reason why they will be on home soil.
"It seems like it's happening every week, when he scores all the points," he said of Pienaar.
"I came here with him yesterday to do kicking practice and he did not miss one all day. He was outstanding and kicked them from 60, 62 metres. From a captain's point of view it gives you a lot of confidence.
"A huge amount of credit to him and it doesn't just happen. He puts a huge amount of work in, he puts hours and hours into his kicking and it's wonderful when it pays off."
Muller added: "We came here to get a home quarter-final. Sarries totally outplayed us last season. They are a great side and don't mind going away to get a result.
"It's two months away and at this stage we will just enjoy the moment. We have not achieved anything yet and there's a huge amount of work left if we are to achieve something."