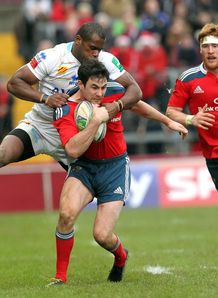 Related links
Teams
Munster full-back Felix Jones says that while the team would not like to leave it late to win every game, they have the belief to do so.
The Irish side's dramatic late victory against Perpignan in Round Four was another to add to an already bulging locker of great Heineken Cup memories.
Their luck ran out however against Ulster last weekend at Ravenhill, but Jones remained undeterred in his belief that should a result come down to some last-ditch heroics, Munster can end up on top.
"Obviously we're trying to win games before it comes to the last minute," Jones told the Irish Times.
"However, that was the situation we were in [in a few games] and we found [in Ravenhill] we were in a position to win it with about three or four minutes to go.
"As it happened they managed to hold us off, get back down the field and then take away the bonus point with the penalty.
"We had massive belief at the time that we were going to do it just like in the previous weeks. We're not going out to try and do it [that way] but there is belief that when we're in the situation that we can actually do it."
Munster's rich history comes with an understandable expectation to make the knockout stages. They sit top of Pool 6 with a five-point gap over this weekend's opponents Gloucester, meaning a win will more or less guarantee their progression to the knockout stages.
"I think in Munster not to qualify for [the quarter-finals] is always going to be seen as unforgivable," added Jones.
"After the Edinburgh game we knew we had to fight to get ourselves into this position so it's very hard to look upon these games as a whole, we look on them individually as they come."