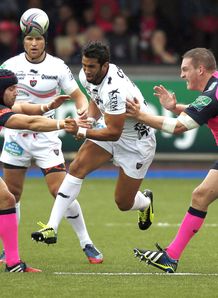 Related links
Teams
Cardiff Blues prop Gethin Jenkins is happy that the Welsh side will face Toulon in Nice and not at the Stade Felix Mayol.
Toulon have moved the match the Allianz Riviera Stadium in Nice, which holds a capacity of 35,600 compared to the Mayol's 15,400.
Jenkins believes that taking the match away from the Mayol, where Toulon lost for the first time in 363 days against Grenoble last Saturday, will play into Cardiff's hands by taking away some of the traditionally intimidating atmosphere provided at Toulon's home ground.
"The fact they have taken the game to Nice is good for us. I know how passionate and crazy their supporters are at Mayol," Jenkins told the ERC website.
"It's probably one of the best club atmospheres you can ever wish to play in. I'm sure it will still be crazy in Nice, but it is a much bigger ground and it won't be Mayol."
Jenkins came off the bench when Toulon won their first Heineken Cup title last season, before switching back to the Blues for 2013-2014.
The Blues then stunned Toulon at Arms Park back in Round Two of this year's competition and Jenkins knows that they will have to produce a similar shock to have any chance of progressing.
"It's all or nothing for us in Toulon. We have to put in a good performance out there and we all know how big a task that is going to be," added Jenkins.
"They will be eager to beat us after we turned them over at home - they were gutted they lost in Cardiff. Having played there last year I know how much they want to keep up their form in Europe and to retain the Heineken Cup.
"The French league is so long and drawn out they suffer dips in form, but since then they seem to have picked it up again and gone to a different level. We know how good they are going to be.
"When I was there we were able to rest four or five players every game. They have players able to take control all over the pitch."