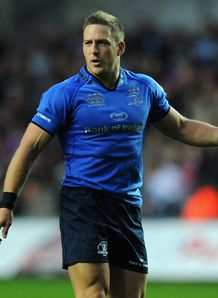 Related links
Teams
Leinster's competition at fly-half between Ian Madigan and Jimmy Gopperth is fiercer than ever according to coach Richie Murphy.
Madigan, 24, was earmarked as the success to Jonathan Sexton last season, while Gopperth, 30, was an off-season recruit from Newcastle Falcons.
Both players have started in key matches for the province this season with no clear number one at the turn of the year, with Murphy conceding that the decision is changing week to week.
"Two players that are very, very similar in the way they play the game," Murphy told the Irish Times.
"It's nip and tuck that's all I can say. Again, this week, there is a decision to be made on who is going to start. It is very tight run thing."
"The two lads have done a reasonable job when they've been in there. Johnny [Sexton] was obviously a massive loss but he is gone now, gone for a while."
"The guys have stepped into the position and tried to run the team for us and they have done the job pretty well."
Madigan has started nine games for Leinster, while Gopperth has started eight but scored more points with 116 to Madigan's 81.
"Mads and I will push each other every day," said Gopperth told the Irish Times.
"It is only beneficial to the squad. As a player it is always good to have competition."
"Whatever mix Matt [O'Connor] goes with myself and Mads complement each other pretty well."