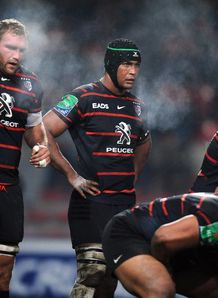 Toulouse captain Thierry Dusautoir was pleased with his side's response on Saturday as they exacted revenge over Connacht at the Sportsground.
The French side picked up a 37-9 bonus-point victory in Galway, as two tries from Maxime Medard went with one for Christopher Tolofua, Louis Picamoles and substitute Gael Fickou.
Connacht, who had won at Stade Ernest Wallon last week, simply could not handle Toulouse.
"First of all it was not easy to bounce back and win here," said Dusautoir after the Heineken Cup win.
"We played with a different spirit and we were more clinical with a better strategy.
"We took the bonus point which was very important for us, but it shows how bad we were last week.
"When we are playing at this level we respect our jersey and our club, and last week was not the same team on the field. Tonight I am very proud of the guys."
Dusautoir, however, said last weekend's home defeat to the Irish side still rankled.
"I am still disappointed how we did last week," he added.
"Tonight we respected the Connacht team and we have been rewarded. When you play rugby you have to respect the team. Even if it is a supposedly a small team.
"You talk to me about the budget last week, it's not the point of rugby. You have to respect the guys and play with spirit - tonight it was present and we won the game."
The triumph sees Toulouse still level at the Pool 3 summit with Saracens, who hammered Zebre 64-3, setting up a likely winner-takes-all match between the two next month.
"Now we can only think about getting out of the pool," added Dusautoir.
"If we had won last week, maybe we would think differently, but now we just have to think about playing in the quarter-final and we have to win against Saracens.
"You can see on my jersey, we have won the title four times, so you can see how important it is for us.
"We don't put a priority on one competition or the other, we just play at our maximum level and try to win everything.
"I hope next year we have a European competition, it is very important for all the players and for rugby."