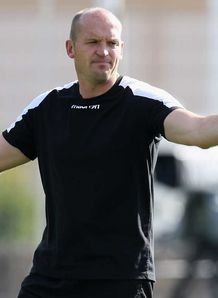 Related links
Also see
Glasgow boss Gregor Townsend was upset with the refereeing during his side's 9-7 Heineken Cup defeat to Cardiff Blues.
Townsend felt Glasgow should have had two tries awarded by French referee Pascal Gauzere through Niko Matawalu plus a penalty try when Cardiff captain Sam Hobbs was sin-binned for the third scrum offence in quick succession.
The loss means the Warriors are languishing at the bottom of the Pool Two table.
"I have to say the try that Niko scored was a clear try in my book," said Townsend.
"If you're clearing a ruck and someone hits and goes through that hole, then it's a try. I must be coaching something different, I don't know those laws.
"And to have penalty after penalty from scrum and from them to kick through the ball at the scrum, illegally I believe, and not to get a penalty try for that was very frustrating and disappointing.
"The effort to put into that and score what we believe were two tries and get nothing was tough."
But Cardiff Blues director of rugby Phil Davies hailed his side's defence which helped them secure victory and elevated them to the top of Pool Two following their second win over the Warriors in eight days.
"Glasgow showed a lot of tenacity to try to get over the line and we showed a similar amount to try to stop them," he said.
"It's the referee's call and that's the way the game goes. But I thought overall our determination deserved to get a result.
"They got a bit of ascendancy there but we sorted certain things out over the course of the game.
"It was a great result, it wasn't pretty. They were pretty greasy conditions but we were very dogged and determined without the ball and ambitious with the ball considering the conditions."