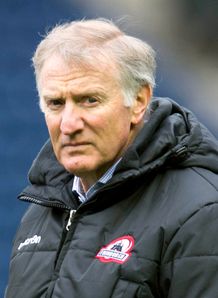 Edinburgh boss Alan Solomons is disappointed with his side's showing in their 23-12 loss to Gloucester at Murrayfield on Sunday.
Solomons cited compounded errors as undermining his side's efforts to reel back the visiting Gloucestermen in the Pool Six Heineken Cup clash.
The Cherry and Whites had already established a 18-5 lead at the break but, after hitting back through number eight David Denton - Gloucester losing a man to the sin bin in the process - Edinburgh were unable to capitalise on a chance to propel themselves into the match when WP Nel knocked on five metres out from the try-line in the tight, with a wide option in the offering.
"We didn't do ourselves justice," Solomons told Edinburgh's official website.
"In the second-half we had 13 turnovers, including a missed line-out.
"Add five penalties to that and suddenly you have given the ball away 18 times in a 40 minute half, making it very difficult for ourselves.
"However, even in the context of these errors, we were in with an opportunity to bring this game back.
"At 23-12 we were down on the right hand touchline. That was a key moment in the game because Denton gave us huge momentum under the posts.
"Had we scored there we'd have gone from 23-12 to 23-19 and I think that would have changed the whole complexion of the game, and that was the big opportunity that we missed. We didn't stick to our systems and that cost us dearly.
"We lacked a bit of sharpness and a bit of urgency. We made too many errors. It wasn't a good performance by us across the board."
Edinburgh are back in action against Gloucester this Sunday at Kingsholm in the second leg of this Heineken Cup double-header, with the west countrymen undoubtedly expecting a repeat of their capital fortunes at home.
Reflecting on the challenge ahead, Solomons added: "It's always possible to win away and we will be fully committed to putting in a performance but the odds are definitely stacked against us in this group.
"If you lose a home game it makes it very difficult. It doesn't mean you are out of the competition, but it makes it very difficult."