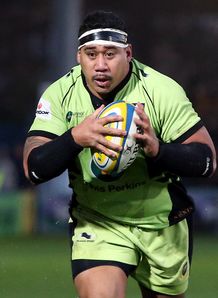 Northampton Saints prop Salesi Ma'afu is enjoying the regular taste of victory ahead of facing Leinster this weekend.
Ma'afu was signed from the Western Force and the Wallaby international has settled into life at Franklin's Gardens as a replacement for Brian Mujati.
Saints have won their last seven matches in all competitions since losing away to Castres in Round 2 of this year's Heineken Cup.
Now set to take on three-time champions Leinster back-to-back over the next fortnight, Ma'afu believes the talent and desire in the squad will see them through.
"To be honest, I haven't won this many games in such a short period of time in the past few years," Ma'afu told the Northampton Chronicle and Echo.
"It's good. The guys have got a strong desire to train to win and to play to win, and we're showing that each week.
"We're put in different circumstances in games and we're coming away with good results, which is good.
"We enjoy winning, we enjoy training and we're going out and building a culture, a competitive culture.
"Everyone strives to be the best we can be. We just want good results and that's what we're aiming for.
"We're on a good run at the moment and that's been good for us, but these guys are no slouches.
"We know we've got our work cut out for us [against Leinster] so it's going to be a tough one.
"We're going to prepare as best as we can for a very solid performance at home."