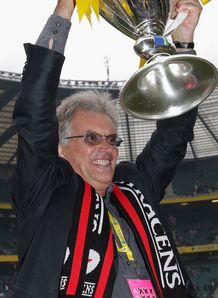 Related links
Also see
Saracens chairman Nigel Wray has called on English clubs to "stick to their guns" and refuse to enter next year's Heineken Cup.
Thursday's announcement that the French clubs have decided to pull out of the breakaway Rugby Champions Cup in favour of playing in the ERC tournament during a 'transitional period' leaves the English clubs isolated.
Wray however has called on his fellow Premiership owners to resist the pressure to return to the mainstream European fold.
"I hope the English clubs stay out," Wray told the Telegraph.
"We have had enough of short-term expediency. It is time to stick to our guns.
"Frankly there can be no genuine European competition without the English clubs.
"And I don't say that in the belief that we are b-----y marvellous but quite simply because there are more of us.
"In the chase for TV and broadband subscriptions, the fact that there are 60 million in England will be the factor that helps determine all this.
"Sky Sports may say that they are happy to back the status quo without us at the moment but the reality is that they will not be in the long run.
"As for possibly going back in for one season, I can't see the point in us limping back in where there is still no true democracy with the English clubs constantly being outvoted because of the nature of the set-up.
"We are not going to cave in now and go back to them all cap in hand.
"The French decision was very disappointing but not entirely unexpected, given the legal nature of their relationship with their federation," he said. "I don't quite understand how they can be called to heel by their union in such fashion as I would have thought European law entitles you to conduct your business wherever you like."