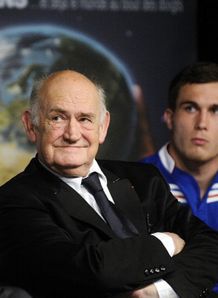 The French Rugby Federation has reportedly offered Top 14 clubs two million Euros apiece to participate in the Heineken Cup next season.
The news prolongs the controversy surrounding European rugby and its future, as Premiership Rugby, the umbrella company representing the top flight English sides, remain determined to press on with their Rugby Champions Cup tournament next season.
While the Top 14 clubs were previously backers of this club-run competition, the cash bonus offered by the French Rugby Federation (FFR) is proving to be a temptation, with reports suggesting that FFR President Pierre Camou has set a December deadline for their decision.
In fact, French law prevents those Top 14 clubs from competing in any tournament without the approval of the FFR (and indirectly, the French government).
This could see the English clubs cast adrift from pan-European rugby next season, with the Daily Telegraph claiming a meeting involving the Irish, Italian, Scottish, Welsh and French unions is scheduled for Thursday to coordinate plans for a union-run competition in 2014.
The paper also suggests that the Celtic bodies are keen to ensure governance of any European tournament rests with the unions rather than the clubs, and that accepting the absence of Premiership sides from 2014/15 may be the necessary price to realise that aim.
Meanwhile, the Irish Times alleges that the FFR has told the Ligue Nationale de Rugby (LNR) - French counterparts of PRL - that future agreements between the pair surrounding broadcast rights and player release will not happen unless the LNR decides to back this union-run tournament over the proposed Rugby Champions Cup.
Indeed, the Top14 clubs should receive a substantial boost to their respective coffers when the relevant television rights are bid for at the start of December.