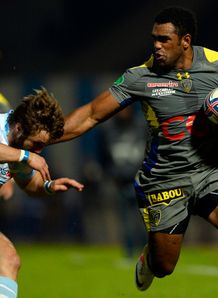 Clermont are fuming over the decision that saw wing Napolioni Nalaga cited following their Heineken Cup Pool fixture against Racing Metro in Paris.
The Fijian international was yellow carded in the 63rd minute for allegedly throwing his knee forward when making contact with Marc Andreu.
But that was soon followed by a citing, making him a doubt to face Harlequins, and left Clermont vice president Jean-Marc Lhermet unhappy.
"The yellow card was already ridiculous!" he told Midi Olympique.
"This decision has reached a new milestone in of our sport. Rugby is a contact sport, at no time is Nap (Napolioni Nalaga) deliberately trying to hurt the opposing player who throws himself into his lap.
"I am willing to meet these gentlemen, behind their desks so that they can explain to me the decision. We want all the text of the IRB which states that it is forbidden to lift your knees when you run."