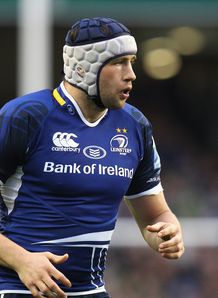 Leinster back-rower Kevin McLaughlin knows the importance of victory in Saturday's Heineken Cup tie with the Scarlets in Dublin.
After back-to-back defeats to Clermont, Leinster must beat the Welsh region - and potentially with a bonus point - to stay in contention for a spot in the quarter-finals..
Those losses to Clermont mean Leinster are trailing the French side by eight points on the Pool Five table.
But what makes the three-times champions' task even more difficult is that Exeter, who they face away from home next weekend in the final group match, are just a point behind them in third place in the standings.
McLaughlin admits that there is plenty of pressure on them to avoid failing to qualify for the play-offs for the first time since the 2007/08 tournament.
"There's an element of the season almost starting now or almost ending now," he told the ERC website.
"As a team we don't like the thought of being out of Europe in January - we kind of look at January as the make-or-break month for the team.
"Obviously, the PRO12 is starting to pick up now. But we're a team that has been at the top of Europe for the last few years and we want to stay there.
"We've put ourselves in this position now, so it's going to be very much a case that, hopefully, our season is starting. We desperately don't want it to end.
"But I don't think we've ever been in this tight a situation in my time in Leinster.
"There is definitely an element of extra pressure there, but I think our attack has definitely sharpened up a little bit. With the internationals back, I think we are functioning better.
"We are playing with more confidence and there's no reason why we can't score a few tries at the weekend."