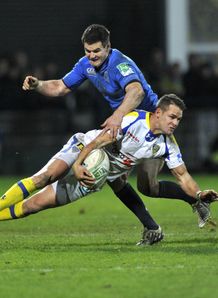 Related links
Also see
Leinster coach Joe Schmidt was left frustrated by his side's 15-12 Heineken Cup loss to Clermont in France on Sunday.
Clermont ended the two-time defending champions' 17-match unbeaten run in the competition in a gripping encounter.
The French club's win puts them five points clear of the Irish side in Pool Five.
"It is incredibly disappointing. The fact that we've got to try to get ourselves up and forge ahead for next week is going to be tough," said Schmidt.
"We've got a fair few bruised bodies in there. You come to the Marcel Michelin and I think you've got to get over the line.
"You can't just go between the posts and hope to get something here.
"I thought there were a couple of calls that maybe could have gone our way and we could have got something else between the posts.
"But the area that Johnny actually kicked out of when he cross-kicked was very, very heavy and muddy. It's not a guaranteed three.
"We did miss one and they didn't miss any. So that's how close these games are and it is really unfortunate."
Clermont are now undefeated at home in 51 matches and the teams meet again in Dublin next weekend.
"We weren't particularly good in the second half and they were better in the second than the first. We just did enough to stay ahead," said Clermont boss Vern Cotter.
"The game was contested from start to finish very intensely, especially at the breakdown.
"They threw everything at us and I'm pleased that we managed to sneak away with the victory - even if it was a skinny one. It's still four points and I think that will count in the end."