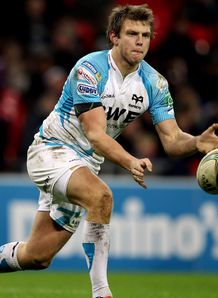 Related links
Teams
Ospreys fly-half Dan Biggar wants to prove he can compete with the best when he faces Leicester pivot Toby Flood in their Heineken Cup clash at Welford Road on Sunday.
Biggar impressed in the Ospreys' opener against Treviso last weekend, notching 18 points in his side's 38-17 victory. He is also an admirer of Flood and believes the England number 10 is an underrated player.
"Personally I rate him as one of the best in Great Britain," Biggar told the ERC website.
"He doesn't get quite the credit he deserves.
"He's a great player, perfect for Leicester. He knows their game plan inside out, gives them what they want, and that's directness and honesty.
"He knows exactly where people need to be and that's very underrated in a fly half.
"He's one of the best in Europe and I'm looking forward to a head-to-head with him.
"Perhaps there are similarities between myself and Toby but I'd love to be as good as him. If I can get to his level I will be happy but I've still got a lot to work on and learn.
"I suppose we're both authoritative in some sort of way and it will be a great battle between us. If our pack gets on the front foot it will be a difficult day for him and vice-versa."
Despite Welford Road being overlooked as a potential venue for the 2015 World Cup, Biggar revealed that he enjoys playing at the ground and is looking forward to Sunday's challenge with the Tigers.
"Welford Road is the best rugby ground you can play in and I include the Millennium Stadium in that," he said.
"You're in the ground an hour before the game and there's 10,000 people in there. When it's full there's 24,000 people there - passionate, intelligent rugby supporters.
"In terms of atmosphere and tradition you won't find many better grounds.
"It's a lot easier to get yourself up for a game with 24,000 people in the Heineken Cup at Leicester, rather than 5,000 people in a bigger stadium.
"But with all the respect we have for Leicester we are going up there to really try to ruffle a few feathers."