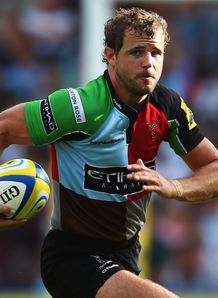 Related links
Teams
Also see
Harlequins have offered fly-half Nick Evans a new three-year contract ahead of Saturday's Heineken Cup clash with Connacht in Galway.
Evans' current contract ends at the end of the season and with several overseas clubs rumoured to be interested in his services the London-based club have moved to retain the former All Black's services.
"There is a new contract on the table," Harlequins director of rugby Conor O'Shea told the ERC website.
"We want him here for another three years and hopefully that will happen.
"We've offered him what he wants in terms of length. It's up to him now. We've put our best foot forward.
"Nev (Evans) would have left here a long time ago if it was about money.
"It's about making the right decision for him, his family and the long term. If he decides to leave we'll move on, but there's not a player at the club, nor a coach or supporter who doesn't want him here.
"People say he's one of the best players in Europe and even the world. Suffice for me to say he's so exceptional I'd pay to watch him train."
Evans injured his ankle in Quins' Heineken Cup victory over Biarritz last Saturday and is a doubtful starter for this weekend's clash with Connacht.
The 32-year-old said he appreciated Harlequins' offer and would take his time before making up his mind.
"Conor has been fantastic," said Evans.
"There is no pressure either way. For me it is about gathering as much information as I can for post-rugby as well as where my family are going to be best suited over the next three years.
"It is great that I am not being forced into making a decision and I really applaud the club for that.
"It would be easy for them to put the pressure on for me to make a decision."