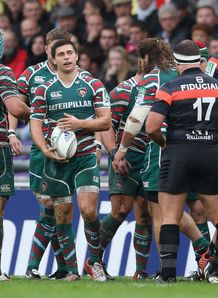 Related links
Also see
Leicester boss Richard Cockerill was not impressed with some of the decisions taken by his players in Sunday's Heineken Cup loss to Toulouse.
Tigers went down 23-9 against four-time European champions in their first game of the campaign. Cockerill was left particularly frustrated by England scrum-half Ben Youngs' decision to run a kickable penalty early in the second half when his side trailed by just five points.
"We were still very much in the game at half-time at 11-9, but if you get a penalty in front of the posts you should take it," he said.
"You don't want those guys who are making those errors to do that. It was a huge moment at 14-9 when Ben Youngs took a quick tap penalty.
"We turned over the ball, gave away a penalty and everything began to get harder for us. Once they get in front they are a hard team to claw back.
"Naive at times is probably the right description of us. We also conceded seven penalty shots at goal, and even though some of the decisions were a bit harsh, they were also down to ill-discipline."
Fly-half Toby Flood leapt to the defence half-back partner.
"You never want to take that kind of action away from Ben because that's the aspect he brings to the game," said Flood.
"It became a big arm-wrestle and the conditions didn't help. The pressure came on when they went nine points ahead.
"In the first 40-50 minutes we felt they were a bit rattled. But they are all big men who all carry well and they squeeze and pressurise you.
"We need to learn how to leave games with something and we have to stop giving the ball away cheaply," added Flood.
"It is as difficult as it gets going to Toulouse, but at least they didn't get a bonus point. That would have made it much harder for us."
Leicester now face the Ospreys a in crunch Pool Two clash at Welford Road on Sunday.