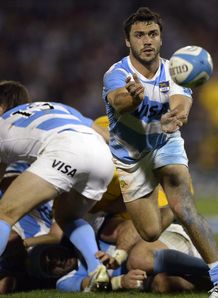 Related links
Teams
Argentina scrum-half Martin Landajo has received a one-week ban for foul play in Saturday's loss to Australia in Rosario.
The Duty Judicial Officer Nigel Hampton accepted a guilty plea from Landajo for contravening Law 10.4 (b) Stamping or trampling after he was cited during the match at the weekend between Argentina and Australia in the Rugby Championship.
Landajo suspension is up to and including October 14 and occurred in the 58th minute of the match played at Estadio Gigante de Arroyito.
In his finding, Hampton ruled the following: "That this was a reckless attempt by Landajo to free up the ball in the back of the ruck, resulting in him making contact with his boot on the hands of two Australian players.
"This was a lower end offence and, given the early guilty plea, Landajo's contrition and his good playing record, appropriately could be dealt with by a one week suspension.
"All SANZAR disciplinary matters are in the first instance referred to a Duty Judicial Officer hearing to provide the option of expediting the judicial process.
"For a matter to be dispensed with at this hearing, the person appearing must plead guilty and accept the penalty offered by the DJO."