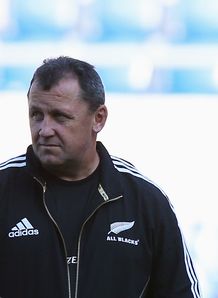 Related links
Teams
All Blacks assistant coach Ian Foster banished the notion of his team setting up to do little more than defend and contain South Africa in Johannesburg on Saturday.
The two teams meet at Ellis Park in a title-deciding Rugby Championship clash, but with the Kiwis already five points clear, the Boks must score four tries in victory, and ensure their counterparts do not finish within seven points of them to earn a losing bonus-point.
With this in mind, many have suggested New Zealand will employ a "negative" game-plan, built on the foundations of resolute defence.
This is a suggestion refuted by assistant coach Foster, who insists the All Blacks will adopt their usual style of play.
"We're in any case not a team that enjoys defending for 80 minutes," he told the Beeld website.
"We will definitely not deviate from our normal playing style. We came here to attack and score tries if opportunities arise."
New Zealand's last visit to Ellis Park resulted in a heavy 40-26 defeat to their hosts back in 2004, and the world champions have emerged victorious in just three of their last eleven fixtures at the venue.
The high altitude setting has been credited with stalling the All Blacks in years gone by, but Foster is adamant that it will not discourage their offensive gameplay.
All the more so considering that their last game on the highveldt ended in a 32-16 victory, upsetting a 16-12 half-time shortfall.