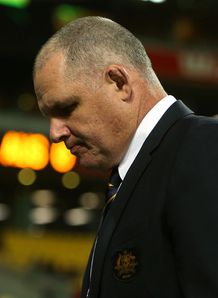 Related links
Teams
Wallaby coach Ewen McKenzie was far from pleased with the refereeing and scrums during his side's Bledisloe Cup loss to New Zealand.
The Australians went down 16-27 to the All Blacks in Wellington to ensure they would not regain the Cup and the loss leaves them with a tough run if they are to win the Rugby Championship.
McKenzie was left bemused by a number of decisions made by referee Jaco Peyper, particularly the South African's failure to consult the Television Match Official after Stephen Moore came close to grabbing a five-pointer.
"All I know is that the touch judge said 'Have a look' but it didn't happen," said McKenzie.
Perhaps even more frustrating for the former Test prop was what he called a lottery at scrum time.
"I used to be able to work it out but I can't tell you what is a penalty and what isn't. I've got no idea and I used to play in the front row and I'm lost," he bemoaned.
"We'll keep working on it and try and understand it but at the moment it is a moveable feast.
"The scrum has a thousand laws around it, some at the moment are important to the IRB [the International Rugby Board] and others are completely irrelevant so while we have a rule book I don't see why we favour some and not the others. It seems quite bizarre to me."