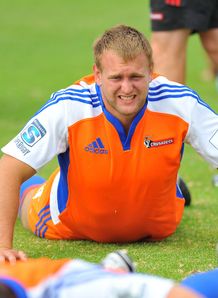 Related links
Teams
Crusaders forwards coach Dave Hewett is confident that Joe Moody is ready to make his mark at international level.
Moody was brought into the All Black training squad this week after an injury to team-mate Wyatt Crockett who has been sidelined for six weeks. As a result the All Blacks are a little thin in the loosehead department and Moody could find himself getting game time against the Wallabies on August 17.
"Definitely," coach Steve Hansen said of Moody's chances of being included in the squad.
"With Wyatt being injured and unavailable for the first test we'll need a replacement. We need a specialist loosehead, clearly that's Joe because we've brought him into the camp. We've got tighthead covered."
Moody made just two starts and 14 substitute appearances during his maiden Super Rugby season, but despite this Hewett believes he can do the job for the All Blacks.
"What he will need is a bit of a experience... he will just need a bit of time to get comfortable with the intensity [of test rugby]," Hewett is quoted as saying by Fairfax NZ.
"It's a massive step-up from Super level. He's just got to make the most of his opportunity. He'll get some training time and hopefully, from there, he can push his case."
Hewett has no doubt that Moody is "physically and technically capable" and that he offers a lot around the park too.
"We've never taken a backward step when he's been on the field. He's a gifted player and he's got a bit of speed about him when he starts winding it up," he said.