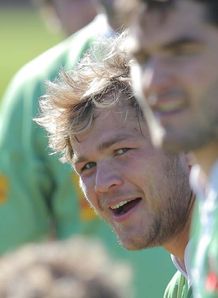 Related links
Teams
Stormers loose forward Duane Vermeulen is proud and relieved to finally be a part of South Africa's camp.
The Springboks arrived in Perth on Sunday's for the Australasian leg of their Rugby Championship campaign.
"It's a great feeling for me. I've been working at this for quite a few years now and to be able to get here is a dream come true," said Vermeulen.
"I'm pleased to finally have got the opportunity and I think coach Heyneke [Meyer] has shown a lot of trust in me.
"I feel great. I believe you have to believe in yourself and when the time comes, you must take it as an opportunity."
The Springbok newcomer admitted that he and his team-mates still had issues to iron out before they take to the field this weekend, but he was confident the team had what it took to improve on their previous display against Argentina in Mendoza.
"There was probably a bad feeling that we drew, but I think there are a lot of positives to draw from the game and now it's all about improving small issues that went wrong," he said.
"The job now is to turn the result around. The tournament is still long, so hopefully we have time to improve on that."
Vermeulen said Meyer phoned him last Tuesday evening to break the news of his inclusion in the touring party.
"I got a personal call from Heyneke and he said he wanted to tell me personally, so that it comes from his side, and to tell me that I'm part of the Australasian tour," he said.
"To finally be part of the squad and to be one of the guys is a great feeling."
The former Cheetahs forward said he relished the prospect of the physical encounters that lay ahead overseas, and had worked hard to return to full fitness in an attempt to demand a place in the starting line-up.
"One can always improve, so there is always something to work on. I'm in the gym every day, busy with rehabilitation and conditioning," he said.
"The physical aspect of the game is definitely not something that scares me. I quite enjoy the physical battle."