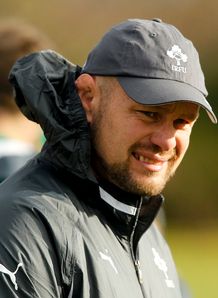 The Irish Rugby Football Union has announced that scrum coach Greg Feek has agreed a full-time role with them from the start of next season.
Feek, who was in a part-time position along with his work at Leinster, will now solely be with Ireland after agreeing a two-year deal with them.
His new role sees him compliment his national team work with the National Scrum Development Programme, which identifies young talent.
"Greg played an important role during the Six Nations and the national coaching staff are delighted that he will be joining us on a full-time basis. He will also be a valuable addition to the National Scrum Development Programme," head coach Joe Schmidt told IrishRugby.ie.
Feek said: "I am excited to be taking on this new role. I have thoroughly enjoyed my time working with Leinster and have grown as a coach at the province.
"There is some good scrum talent across all four provinces but there is always plenty to work on as we attempt to maximise the growth and development of the emerging talent while also staying as competitive as possible at the top level."